It's on SALE!!! I have to give a shout out to Nicole over at
Rowdy in Room 300
for making these adorable fonts!!! I'm using them for everything because they are so cute!!! Thanks Nicole!!
Fall is finally here!!! YAY!! I used to love candy corn as a kid, but now.... not so much...however, there are so many ways to use these sweet treats in your classroom.
This packet is filled with activities that you can use with your Kinders and 1st graders to work on problem solving, addition, and subtraction skills. I'm going to show you how to use this packet and the many different activities you can get from it.
The first thing you're going to get from this packet are 20 large candy corn cards. Whenever I make my packets, I like to make cut outs pretty large. All 20 fit on one piece of paper, but these are the perfect size for students to work with....not too small, not too big.
You can use these candy corn cut outs by:
1) Saying a number and having your students show that number
2) Grouping by 2s and 5s
3) Counting how many are in a set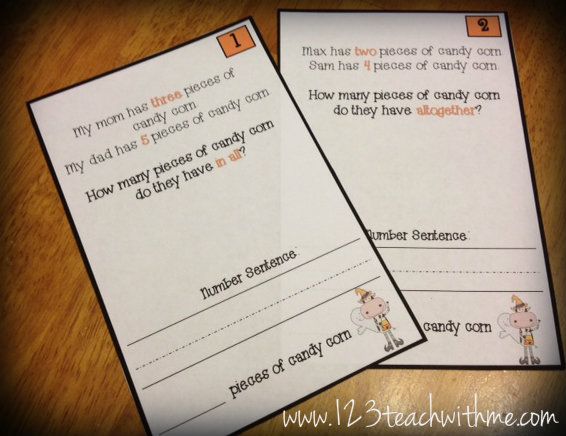 The next thing are the 20 task cards (each is half the size of a piece of paper) where 10 are addition problems and 10 are subtraction problems. I use words like: in all, altogether, left and I also use the word form of numbers in the word problems so students could gain fluency with those. These key words are highlighted in orange.
You can take all 20 and turn then into a booklet for each child or laminate each one and set them at a center for students to write and work out their problems with an erasable marker.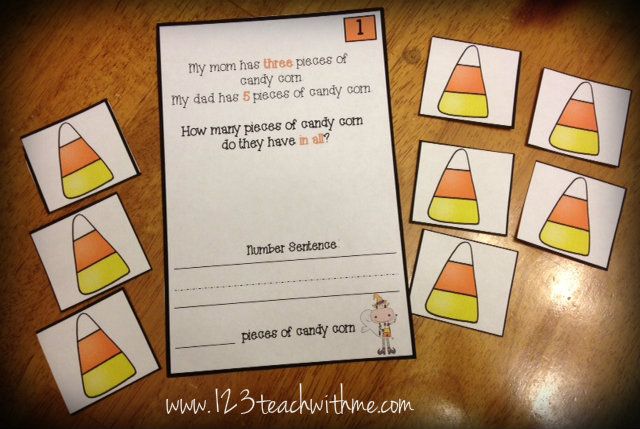 Use both candy corns and task cards to have your students show you how to work out a problem. Reading and understanding word problems can be so difficult for some students but having hands-on materials ready for your students to SHOW you how to get to an answer, can really be of great help!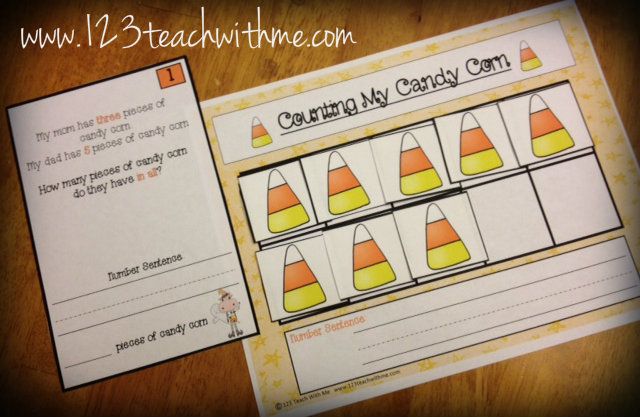 There is also a "Counting My Candy Corn" work mat where students can place their candy corn in the ten frame to show you the answer. There is a space at the bottom for them to write a number sentence to match the problem. You may want to laminate this so it can be reused if you want them to write on it more than once.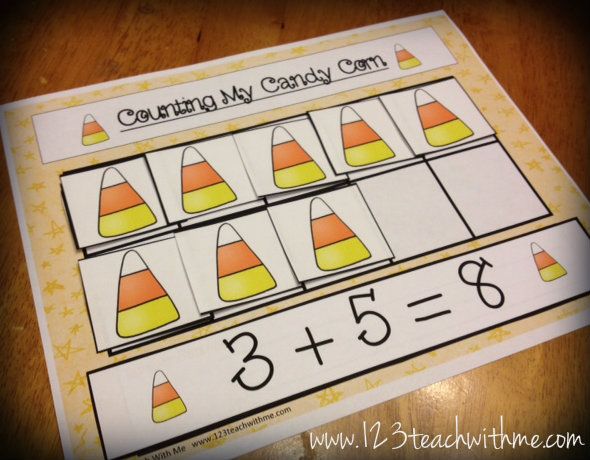 I have included the number sentences for ALL 20 word problems so your students can find the number sentence that matches the problem. There is a student recording sheet where they write the answer to each problem to show understanding. The answer sheet is included.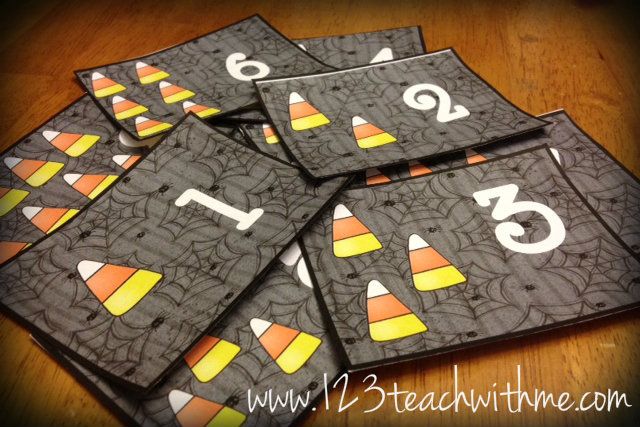 The next set of activities start with cards that go from 1-10. The number is shown and the number of candy corns are shown. For younger students, use these cards to play a game where students flip over 2 cards and they have to come up with a number sentence, either addition or subtraction and solve the problem.
I have included a sheet where students work with writing a word problem. There is a sheet that shows an example and student recording sheet. Students will pick 2 numbers and create their own candy corn word problem.
Of course, it may be more fun to use REAL candy corn, but you may not want your little ones eating during the lesson...hehe!!
I hope you enjoy this!! Again, this packet is on SALE..only $2.40... the rest of today and tomorrow for the Fall sale at my store. If you download this item, I would love to hear from you! Leave a comment at my store letting me know how it worked for you:)